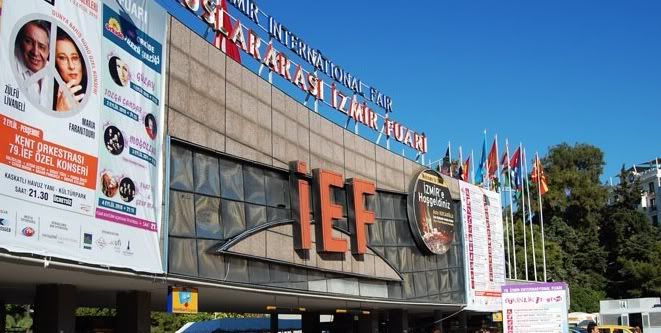 Well, it's that time of year again...
The 80th International Fair opened yesterday and will continue until the 18th of September. We'll be heading over a couple of times whilst it's on, to mooch round & look at all the stalls but mostly to eat at the World Kitchen which is full of different cuisines from around the world.
Every year there is a theme and this year's trade show theme is "Environment and Environment Technologies".
Austria will be the partner of Turkey's first international trade show this year.
Austrian Minister for Economics, Family, & Youth Reinhold Mitterlehner will come to Turkey to visit the fair. As the partner country, Austria will have a 600-square metre stand.
The event will bring together Turkish and Austrian investors at four different events about environment, urban planning, tourism and alternative architecture.
The fair will also feature IEF Environment Summit on September 15 and 17.
A total of 1,083 companies including 256 foreign firms from Austria, People's Republic of China, Germany, Romania, Kuwait, Indonesia, Ukraine, Poland, Iran, Iraq and Slovenia will take part in the fair.
Some 1.5 million people are expected to visit the trade show which will remain open till September 18.
The 80th IEF will take place at Izmir Kulturpark International Fair Center.
Website:
Click